People travel from all over the country to have facelifts in Columbus, Ohio. When you are searching for Plastic Surgery, Columbus Ohio, remember that there are many specialists who are experts in certain types of plastic surgery. For example, Dr. T. William Evans, D.D.S M.D. is a specialist in Facial Aesthetic Surgery, Maxillofacial Surgery, and Skin Procedures such as Lazer Skin Resurfacing.
Patients often ask Dr. Evans, "Are you a plastic surgeon?" Dr. Evans is not a Plastic Surgeon. He is a Board Certified Oral and Maxillofacial Surgeon and a Board Certified Cosmetic Surgeon (Facial) who limited his practice in 1978 to only surgery of the face and neck. He is a specialist who focuses on getting the best results for people from the neck, up.
He invented the deeper tissue procedure which is used to create better, longer-lasting results for people who want to get a Facelift and look younger.
Here are some of the results from plastic surgery in Columbus, Ohio performed by Dr. Evans.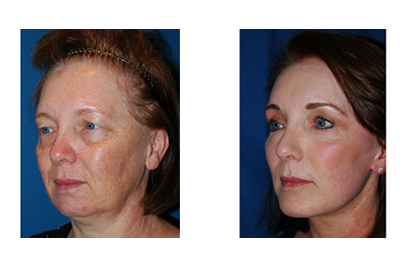 For many years, Dr. Evans has published REAL before and after pictures of his patients on his website. Many other plastic surgeons post pictures of models, which do not give a prospective patient a way to judge the quality of the outcome. Dr. Evans also publishes pricing on the website so there are no surprises, and people can make an informed decision on what a high-quality, long-lasting facelift in Columbus, Ohio will cost.
Even though Dr. Evans specializes in cosmetic surgery above the neck, that still includes many procedures. The most common he performs are Facelifts and Lazer Skin Resurfacing. However, he does the following as well in downtown Columbus.
Eyebrows (Endosopic Browlift)
Neck (Necklift)
Chin Implant
Cheek Implants
Nose (Rhinoplasty)
Other Columbus, Ohio Plastic Surgeons are not as renowned as Dr. Evans. Patients travel from all over the United States to get the long-lasting Facelift that Dr. Evans performs. Celebrities have traveled from California and Las Vegas to have their Facelifts done in Columbus with Dr. Evans. People come from Chicago, Atlanta, and many other areas. The reason is simple. The best facelifts are done by Dr. Evans, a Columbus, Ohio Plastic Surgeon who has many years of experience and a stellar reputation.
If you want to see more before and after images of the plastic surgery done in Columbus, Ohio by Dr. Evans, go to the front page of the website and look through the slides. You will see how people look years after having the surgery. That is the true test of a plastic surgeon – do the results look great and last a long time. When you look at the plastic surgery testimonials, you will see that people are not just thrilled with the results, but they are thrilled with the results many years after the procedure is done.
Once you have looked at the Facelift before and after pictures, the pricing for Facelifts in Columbus, Ohio with Dr. Evans, and the testimonials that show how happy patients are with the work that Dr. Evans does, give him a call at 1-614-224-0905 and book a consultation.